Create a fundraiser Download Fundraising Assets
Anything can be a fundraiser
Really! Once you have a fundraising page set up, the sky is the limit. Hold a garage sale, set a personal run challenge, donate your birthday or wedding, pledge to read books, really truly anything!


---
How does it work?
1. Set up your virtual fundraising page to accept online donations.
2. Ask your friends and family to participate and donate.
3. Celebrate your success!
Fundraising Tips
- Share your fundraising page link on social media.
- Remind people of the cause; to fund pediatric brain cancer research!
- Check out some premade fundraising assets you can use to let people know you're fundraising.
- Thank those that have already supported you and post updates along the way.


---
Fundraiser Ideas
Calendar Fundraiser - Fill the calendar with donations! Supporters pick a date to claim and donate the amount equal to the day they chose. Download the graphics here.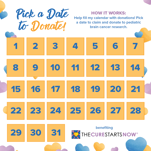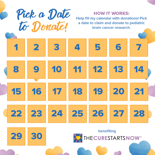 Donate your Birthday - In lieu of gifts, ask your friends and family to give the gift of research by donating to your fundraiser on your birthday.
Yard Sale - Donate the proceeds from getting rid of things you don't need!
Book-a-thon - Pledge to read a book for every donation made, or a total amount of books if your fundraising goal is met.